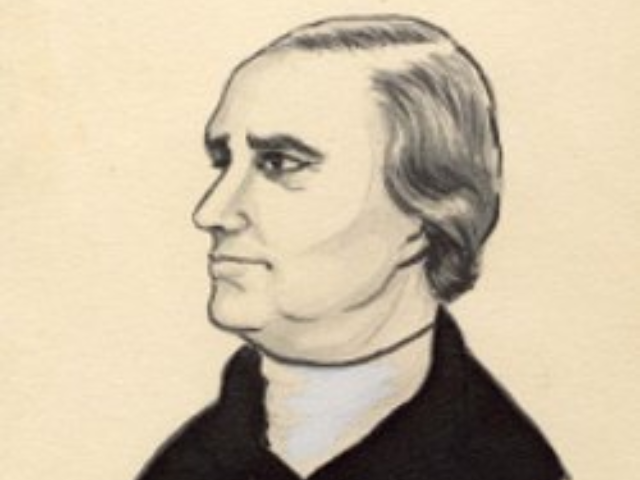 Oliver Hart. Image from With Christ on the Ancient Paths blog.
(1723-1795)  Oliver Hart was born in Warminster, Pennsylvania. He was one of the most influential religious, social, and political leaders of the pre–Revolutionary War South. He began his adult life as a carpenter, though he was also licensed to preach by the Philadelphia Association (Baptist) in 1746. In 1749, after receiving a request from the Charleston Baptist Church for help in locating a pastor, the association encouraged Hart to answer the call and ordained him to the ministry. The Charleston church accepted Hart's unannounced arrival as a sign from God and installed him as minister in 1750, despite his meager education. He would hold that position for thirty years, leading the church in the Regular Baptist tradition. The church's trust was well placed. After educating himself, Hart became a leader not only to his congregation but to Baptists in the entire region. His Regular Baptist heritage inspired him to recruit worthy young men to enter the ministry and to challenge the Charleston Association and the Charleston Religious Society to raise the funds needed for the education of these ministerial prospects.
In 1749, Hart left Pennsylvania, one of the twenty-nine signers of a document adopted by the Philadelphia Association on the place and authority of an association in Baptist life. The association, as an organizational form, advocates a single denominational structure to support missions and ministry in a geographical area, as opposed to the society form of organization, which creates multiple organizations for the support of a variety of ministries. Hart brought associational organization to South Carolina, and Baptists in the state would in turn advocate it for the Southern Baptist Convention.
Hart also become a champion of liberty, equality, and cooperation among Christians. He encouraged ministers to preach to Native Americans (thereby recognizing their humanity), and he opposed slavery. In 1775 Hart's involvement in the Revolutionary cause, especially in the recruitment of support for the patriots, both in Charleston and in the backcountry, forced him to flee for a time with his family to the Euhaw tribal lands. By 1777, with the support of Baptist leaders in Virginia, Hart became an activist for religious liberty in South Carolina. In 1780 he was driven once again to the Euhaws by the British advance. From there he went to Hopewell, New Jersey, where he served as pastor until his death. Hart never returned to Charleston, though Richard Furman who succeeded him in the pulpit at Charleston expressed a willingness to step down in deference to his leadership at any time.
Hart was married twice, first to Sarah Brees in 1747, who was the mother of four children who survived infancy (Eleanor, Oliver, John, Mary Baker). His second marriage in 1774 was to Anne Sealey Grimball, who gave him one son, William Rogers. Hart died in Hopewell, New Jersey and was buried in the Southampton Old School Baptist Cemetery in Southampton, Pennsylvania.