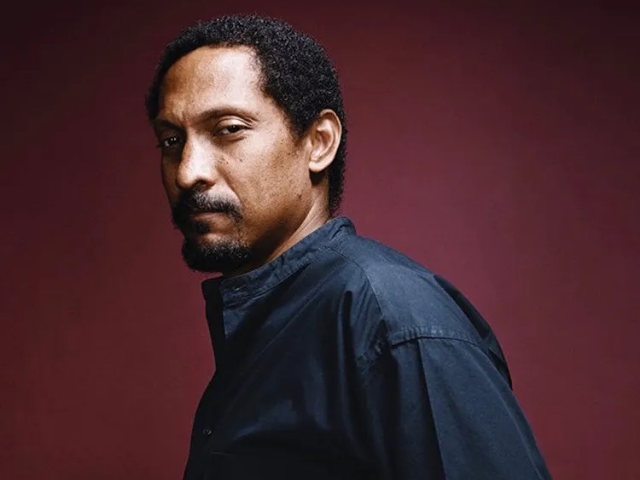 Percival Everett. Image from The Rumpus
(1956 - )  Everett was born at Fort Gordon, Georgia, the son of Percival Leonard and Dorothy Stinson. He was raised in Columbia, South Carolina, where he graduated from A.C. Flora High School before earning a bachelor's degree in philosophy from the University of Miami in 1977 and a master's degree in creative writing from Brown University in 1982.
Everett drew on his experiences as a young African American growing up in Columbia in his first novel, Suder (1983), which received laudatory reviews across the United States. Though the novel's black protagonist is a professional baseball player in the Pacific Northwest, much of the narrative is given over to memories of his Carolina childhood. The critical success of Suder helped gain Everett the position of professor of English and director of the creative writing program at the University of Kentucky (1985–1989). He then taught at the University of Notre Dame before moving to California in 1992, where he served as a faculty member first at the University of California at Riverside and then at the University of Southern California. In addition to his writing and teaching, Everett has long served as an editor of the distinguished literary journal Callaloo, which publishes critical studies of and original works by black writers from around the world.
Despite his long absence from South Carolina, he involved himself in state politics when he unexpectedly spoke out against the presence of the Confederate flag atop the State House.  The state resurfaced once again when he and fellow University of Southern California professor wrote a humor-charged epistolary novel based on their fantasy request to ghost write an account of the accomplishments of the African American people for Senator Strom Thurmond. Pursued by the senator's fictional aide, Barton Wilkes, the two authors are charged with crafting their history by keeping in mind Thurmond's unique perspective on the subject. A History of the African-American people (proposed) by Strom Thurmond, as told to Percival Everett and James Kincaid (2004) is a tour-de-force satire on the politics of race.
Much of Everett's creative work has focused on his adopted home, the American West.  He and his wife, the novelist Danzy Senna, and their two sons live on a ranch in southern California. Nevertheless, these works still offer telling commentary on the problematic status of minority groups in this country. 
The protean nature of Everett's career–his dabbling in a host of genres in both fiction and poetry–has made his personal canon difficult to categorize, but he has, especially in recent years, earned his fair share of recognition, including the induction into the South Carolina Academy of Authors in 2011.