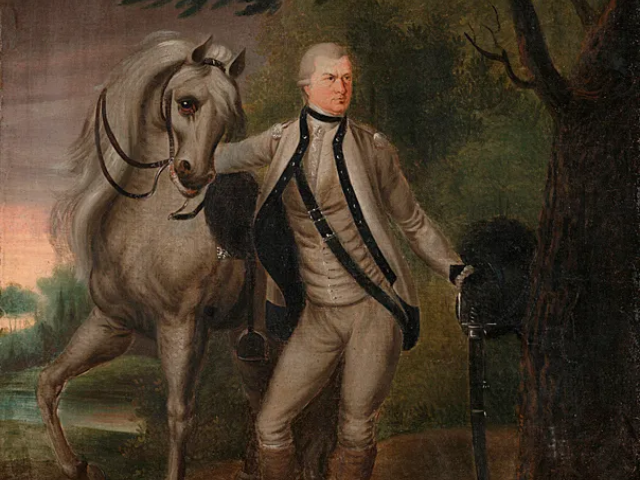 Painting of General Peter Horry. Image from Horry County Historical Society.
(1743-1793) Horry was born in Prince George Winyah Parish, the son of John Horry. Educated at the Indigo Society's free school in Georgetown, Peter Horry later served a harsh apprenticeship with a local merchant. By the late 1760s Horry had established a mercantile partnership in Georgetown, which he gave up on inheriting 475 acres from his father. Eventually Horry owned plantations on Winyah Bay and the Santee River as well as land in Ninety Six District and a house in Columbia (later called the Horry-Guignard House). At his death he owned as many as 116 slaves.
Horry's military service began during the Revolutionary War when he was commissioned a captain on June 12, 1775. He served with Francis Marion in the Second South Carolina, which distinguished itself at the Battle of Sullivan's Island in June 1776. After the battle Horry was promoted to major and, in 1779, to lieutenant colonel in the Continental army. In January 1780 he took command of the Fifth South Carolina, with the rank of colonel in the state militia. When the Fifth and other undermanned regiments were merged, Horry's services were not needed and he was released from active duty. At home when Charleston fell in May 1780, Horry went to North Carolina and joined General Johann de Kalb's staff as an observer. In the summer of 1780 he returned to South Carolina and served as one of Marion's most valuable and trusted officers. Late in the war, when Marion attended the legislature at Jacksonborough, he left Horry in command of his brigade. In the meantime, General Nathanael Greene had created two battalions of light cavalry, one commanded by Horry and the other by Hezekiah Maham. Since their new commissions as lieutenant colonels bore the same date, a feud developed between the two men, one result of which was the defeat of Marion's brigade in late February 1782 at Wambaw Bridge. After the two regiments were consolidated under Maham, Horry was appointed commandant at Georgetown, a port vital to Greene's army.
After the war Horry remained in the military service of the state. In 1792 he was given command of the Sixth militia brigade. In 1798 the brigade mobilized to face a rumored invasion by French forces and again in 1802 against a potential slave revolt. He retired from the militia in 1806. A member of the Society of the Cincinnati, Horry collected a sizable archive of war documents and letters. He gave them to Mason Locke "Parson" Weems, fresh from his popular, but contrived, biography of George Washington. Weems took so many liberties in writing the Life of Marion (1809) that Horry disassociated himself from the work. Horry also kept a journal from 1812 until shortly before his death, parts of which were published in the 1930s and 1940s in the South Carolina Historical and Genealogical Magazine.
Horry represented Prince George Winyah Parish in the state House of Representatives in 1782 and from 1792 to 1794. He sat in the state Senate for the same parish from 1785 to 1787. In 1801, when the legislature established new judicial districts, the state honored his war-time service by creating Horry District.
Horry married Margaret Magdalen Guignard on February 9, 1793, a union that produced no children. He died in Columbia on February 28, 1815, and was buried at Trinity Church, Columbia.