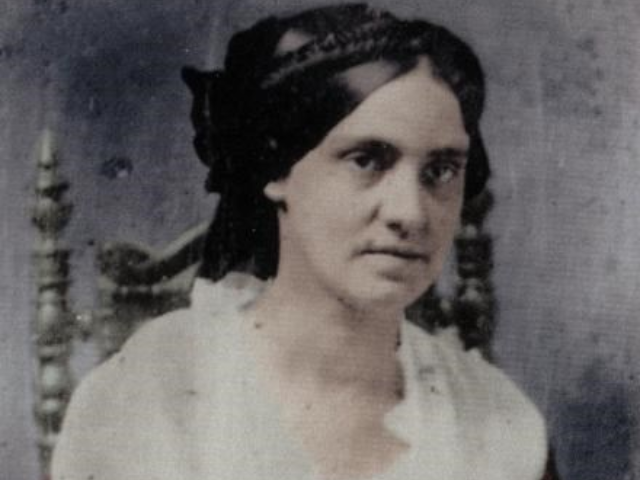 Phoebe Yates Pember. Image from National Park Service.
(1823-1913)  Born in Charleston, Pember was born to Jacob Clavius Levy and Fanny Yates, a prosperous and cultured Jewish couple.  In 1856 she married Thomas Pember, a Christian, and moved to his home in Boston, Massachusetts. He soon thereafter contracted tuberculosis, and the couple relocated to Aiken, South Carolina, where he died. Phoebe went to live in Savannah with her parents, who shortly thereafter "refugeed" to Marietta, Georgia.
In November 1862 Pember was approached by Mrs. George W. Randolph, wife of the Confederate secretary of war, to serve as matron in Chimborazo Hospital, a complex of military hospitals on the outskirts of Richmond, Virginia. Pember became chief matron of Hospital No. 2 and is believed to have been the first matron appointed at Chimborazo. Her hospital duties included seeing that everything is cleanly, orderly and all prescriptions of physicians are given in the proper time, and food properly prepared.  She overcame considerable opposition from her male counterparts in the other Chimborazo Hospitals, as well as from some patients, their families, and camp followers.  After Federal forces captured Richmond in 1865, Pember remained at Chimborazo until "all the sick were either convalescent or dead," caring for wounded Confederates during the transition marked by the Federal occupation.
After the war, Pember returned to Georgia. She traveled a great deal and wrote articles for several periodicals. In 1879 she published A Southern Woman's Story, which remains one of the best accounts of hospital care and conditions during the Civil War. She died in Pittsburgh, Pennsylvania, and was buried in Savannah beside her husband in Laurel Grove Cemetery.