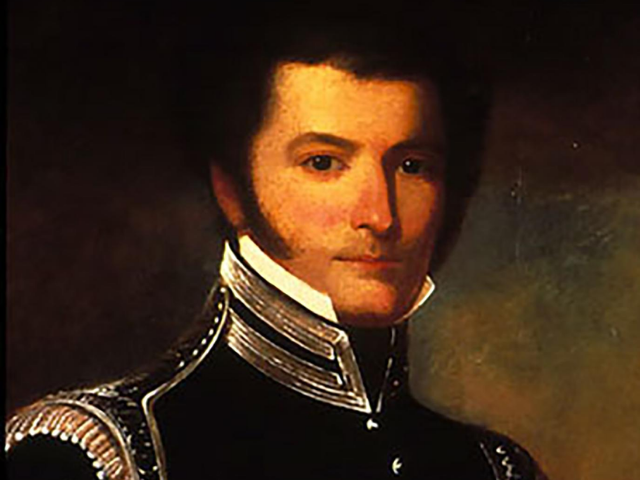 Pierce Mason Butler. KnowItAll.
(1798-1847) Pierce Mason Butler in Edgefield, the  son of William Butler and Behethland Moore. Butler attended Moses Waddel's academy and graduated from South Carolina College. Butler gained an army commission as second lieutenant in 1819. Three years later Butler was promoted to first lieutenant and transferred to the U.S. Seventh Infantry Regiment at Fort Smith, Arkansas Territory. In 1824 he commanded a detachment that built and garrisoned Fort Gibson, Indian Territory (modern-day Oklahoma). The following year Butler, by now a captain, commanded the survey party that mapped the military road between Fort Gibson and Fort Smith. During this period Butler met Miranda Julia Duval, whom he married in 1826.
In1829, Butler resigned his commission and returned to South Carolina. In 1830 he secured an executive position with the Columbia branch of the Bank of the State of South Carolina, serving as branch president from 1833 until 1836. Later, Butler discovered that various state political leaders were seeking to elect him governor. He emphatically stated that he would not actively seek the office but would accept only as a "point of honor." In1836, the General Assembly elected Butler to the governorship. In his inaugural address, Butler called on South Carolinians to forget divisive issues and pledged to revitalize the state's militia system.
Two crises confronted Butler during his term as governor. During his first year, the state and nation suffered through the Panic of 1837, which Butler blamed on the banking policies of President Andrew Jackson. In an 1837 message to the legislature, he declared that currency regulation was vital to recovery and voiced his support for rechartering a national bank. In April 1838 the city of Charleston experienced a devastating fire that caused nearly $4 million in damage. Although private sources provided some relief, the amount was insufficient. Butler summoned the legislature into a special session to consider the problem. Legislators responded by passing the Fire Loan Bill, which authorized the state to make up to $2 million in loans to rebuild the city.
After leaving office in December 1838, Butler made an unsuccessful bid to gain the lucrative federal post of collector of customs in Charleston. In August 1841 President John Tyler appointed Butler federal agent to the Cherokee. He held this position until 1845, when ill health forced his resignation. At the outbreak of the Mexican War in 1846, Butler was appointed colonel and commander of the Palmetto Regiment. He was killed instantly when a musket ball penetrated his skull.