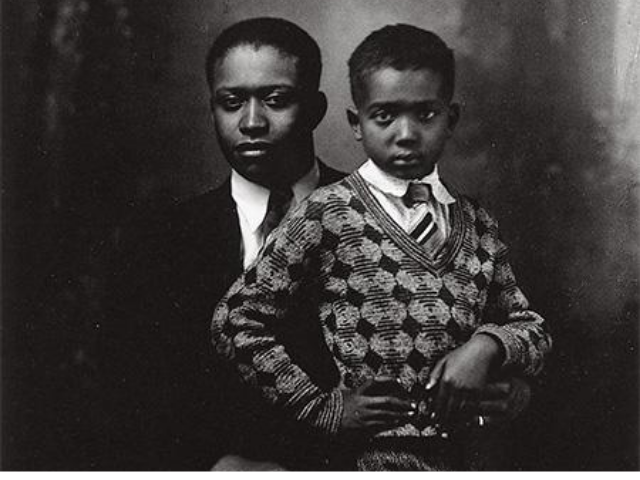 Photo of Robert Harper Kennedy and his nephew, Hale B. Thompson, Jr. taken by Richard Samuel Roberts. University of South Carolina.
(1880-1936)  Richard Samuel Roberts was a self-taught photographer who operated his studio in Fernandina, FL, where he gained a reputation as a portrait maker. Success was achieved due to long hours of study that could only be done after he had finished his day's work as a stevedore and later as a fireman laborer. He read books and magazines on photography, becoming familiar with the nuances of lighting, angles, shadows, and backgrounds. His dream was to become a master portrait-maker, with every picture a true reproduction of the subject.
In 1922, Roberts rented a studio in Columbia, S.C. Carolina's Black commercial district on Washington Street. For the next 14 years, the thousands of pictures that Roberts took comprised a stunning visual history of every aspect of the Black community in South Carolina's capital city. He frequently took his camera into the heart of the segregated Black District of Columbia and also to other towns and cities in the state. Roberts' clientele was, for the most part, Columbia's Black population. He photographed every facet of his community, including bankers, teachers, social workers, and even magicians, although he also made portraits of all people, regardless of race or economic conditions.
Because his small studio had only limited floor space and poor natural light, he was forced to improvise in his use of equipment and background. Roberts was an innovator and a perfectionist, and he prided himself on the quality of his work. 
After his death in 1936, his children stored his negatives in the family home in the Arsenal Hill section of Columbia. Roberts' work came to light in 1977 when researchers at the University of South Carolina's South Carolinian Library, through his children, retrieved more than 3,000 negatives.
The discovery of the glass negatives initiated a major research and preservation project. With the cooperation of the Roberts family, a display of Roberts' photographs was held at the Columbia Museum in 1986 as part of the city's bicentennial celebrations. Many of Roberts' portraits have been collected and published in the book "A True Likeness: The Black South of Richard Samuel Roberts: 1920-1936." The pictures are the most realistic collective images of South Carolina's Black life in the early 20th century, especially the rise of the economically secure middle class.
Richard S. Roberts showed that self-determination is often the key to success. He shared his time in history with those whose lives he documented through photography.