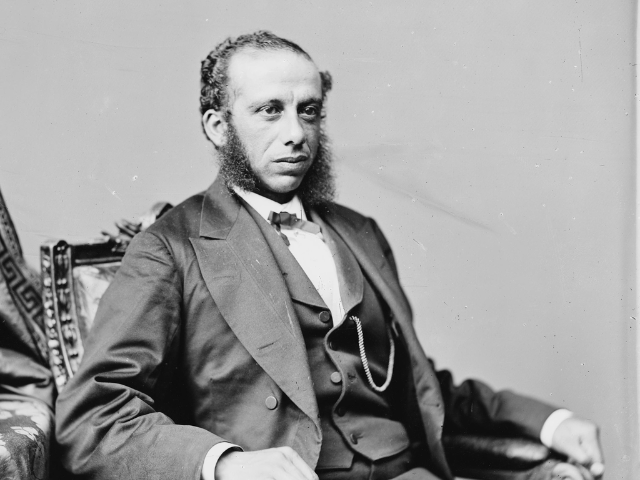 Hon. Robert Carlos De Large. Library of Congress Prints and Photographs Division.
(1842-1874) DeLarge was born in Aiken, SC, the son of a slave-owning mulatto tailor and his Haitian-born wife. DeLarge attended primary school in North Carolina before returning to South Carolina to attend Wood High School in Charleston. He learned the barbering trade before enlisting in the Confederate navy. DeLarge's reasons for supporting the Confederacy are unknown, but as a free person of color and member of South Carolina's brown elite, he may have viewed Union troops as invaders. Apparently he later regretted his actions since he donated most of his wartime earnings to the Republican Party.
Shortly after the end of the Civil War, worked earnestly for the betterment of African Americans. In 1865 he took office as an agent of the Freedmen's Bureau. A gifted orator noted for his passion, DeLarge used his political skills to help organize the Republican Party in South Carolina. In 1865 he attended the Colored People's Convention meeting at the Zion Church of Charleston. The convention adopted DeLarge's resolution calling for the establishment of a universal public school system. Though he did not favor giving the vote to illiterates of either race, DeLarge signed a petition asking for impartial male suffrage. At the 1867 South Carolina Republican Convention, DeLarge again sought public schools as well as the abolition of capital punishment, universal male suffrage with literacy restrictions, tax reform, assistance to the poor of both races, funds for such internal improvements, and land distribution. He was elected to the South Carolina General Assembly in 1867 and in 1870 he was appointed to head the South Carolina Land Commission, in which post he supervised the sale of land to freedmen. His brief tenure at the Land Commission was lackluster, however, and did little to lessen the agency's reputation for mismanagement and corruption.
DeLarge capped his political career in 1870 by beating the white Republican Christopher C. Bowen to serve the Second Congressional District in the U.S. House of Representatives. He took his seat on March 4, 1871. Placed on the Committee on Manufactures, he also urged legislation to protect Republicans from intimidation and to protect African Americans from racial violence.
Unfortunately, Bowen weakened DeLarge's effectiveness by contesting the election and thereby consuming much of the young congressman's time. The House Committee on Elections began considering C. C. Bowen v. R. C. DeLarge in December 1871 but failed to reach a conclusion until January 1873. At that time they removed DeLarge from office because such irregularities existed in the election as to make the victor impossible to determine. DeLarge did not pursue reelection because his health had already begun to fail. His appointment as a Charleston magistrate in 1873 was his last public office. He died in Charleston of consumption. He was buried in the Brown Fellowship Society Cemetery.