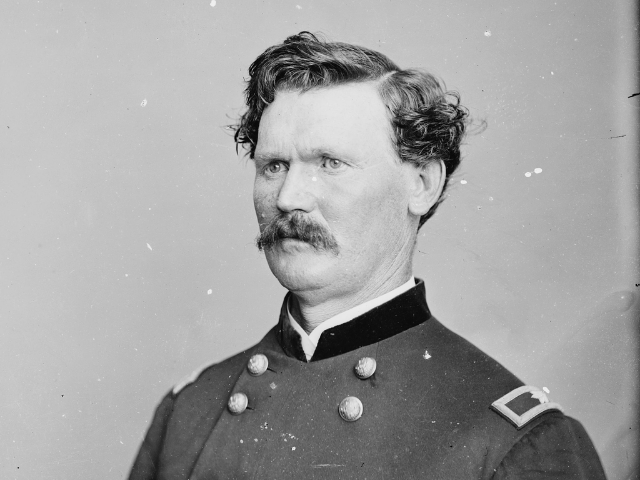 Gen. R.K. [?] Scott, U.S.A. between 1855 and 1865. Photographed by Mathew Benjamin Brady. Library of Congress Prints and Photographs Division.
(1826-1900)  Scott was born in Pennsylvania, the son of John Scott and Jane Hamilton. He attended Central College and Sterling Medical College in Ohio and prospered as a physician, real estate speculator, and retailer. He married Rebecca Jane Lowry and the couple had two children. During the Civil War, Scott organized the Sixty-eighth Ohio Volunteers and eventually rose to the rank of brigadier general. In 1866 Scott was appointed assistant commissioner of the Freedmen's Bureau in South Carolina. He struggled diligently to provide food for freedmen and destitute whites but was dismayed by the opposition and cruelty of many whites toward the former slaves.
Scott was elected governor in 1868 with support derived largely from newly enfranchised black male voters. In his 1868 inaugural address he urged reconciliation and advocated the establishment of segregated public schools, and then he failed to invite any African Americans to a reception that followed. In 1870 he supported the election of the black congressmen Robert Brown Elliott and Robert DeLarge, and Alonzo Ransier served as the state's first black lieutenant governor during Scott's second term.
In 1868 and 1869 white violence and terror erupted as dozens of black and white Republicans were threatened, beaten, and assassinated. Scott signed a bill in 1869 organizing a state militia composed largely of black men. President Ulysses S. Grant dispatched federal troops and suspended the writ of habeas corpus in 1871. 
Scott was alleged to have participated in a bribery scheme involving the sale of railroad bonds. Reelected in 1870, Scott avoided impeachment in 1872 when several legislators allegedly accepted bribes to defeat the resolution.  He remained in Columbia until 1878 and then returned to Ohio rather than face indictment on charges of corruption.