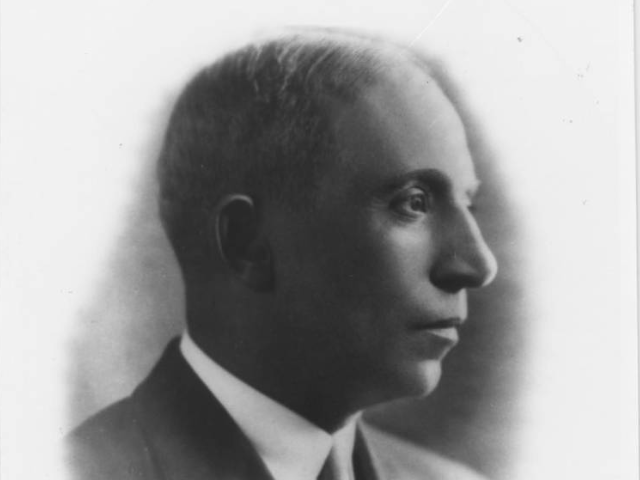 Dr. Robert S. Wilkinson, President. The South Carolina State Historical Collection & Archives.
(1865-1932)  Wilkinson was born in Charleston, SC the son of Charles Henry Wilkinson and Lavinia Smith Wilkinson. He attended Shaw Memorial School and Avery Institute in Charleston. He received an appointment to the U.S. Military Academy but was unable to meet the physical requirements and did not attend. In 1884 he entered the preparatory program at Oberlin College and subsequently earned a bachelor's degree in 1891.
Wilkinson joined the faculty of the State University of Kentucky at Louisville in 1891 and taught Latin, Greek, and political science at the black institution. When the South Carolina Colored Normal, Industrial, Agricultural, and Mechanical College (later South Carolina State University) was established in 1896 in Orangeburg, Wilkinson became one of its first faculty members. He was a professor of physics and chemistry until 1911. In 1898 he was granted a Ph.D. from the State University in Louisville.
Wilkinson was the second president of South Carolina State. During the two decades that he led the institution, the college made the transition from essentially a primary and secondary school to a genuine college. Wilkinson was instrumental in gaining philanthropic support from the Julius Rosenwald Foundation and Rockefeller-sponsored General Education Board that provided funds for the construction of a teacher-training school and Hodge Hall, a facility to house the science and agricultural programs.
Wilkinson helped create and supervise a cooperative extension program for the state's black farm families. The program was administered by the state's white land-grant institution Clemson College, but Wilkinson hired, fired, and directed the black agents. By 1929 there were twenty black agents–twelve men and eight women–imparting information on crop management, livestock production, the canning of fruits and vegetables, and health and hygiene to rural and often impoverished black people.  When black farmers complained that they were unable to secure applications for federal loans, Wilkinson promptly contacted Clemson officials to ask "that Negroes are given a fair consideration in this respect."
Wilkinson served on several community organizations and was on the boards of Voorhees Industrial College in Denmark and Victory Savings Bank in Columbia. Wilkinson married Marion Raven Birnie on June 29, 1897, and they were the parents of two sons and two daughters. He died of pneumonia on March 13, 1932.