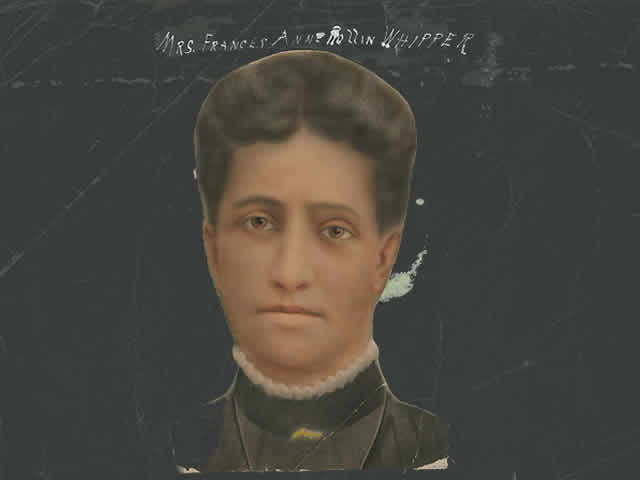 Portrait of Mrs. Frances Anne Rollin Whipper. Schomburg Center for Research in Black Culture, Photographs and Prints Division.
The five Rollin sisters, Frances, Charlotte, Katherine, Louise, and Florence, were born in Charleston, South Carolina, to William and Margaretta Rollin, wealthy free people of color.  Their Columbia home, dubbed "the Rollin Salon," was the site for social and political gatherings where black and white Republican politicians and their wives mingled freely, advancing social causes and helping to shape the political climate of the times.  The political and social influence and activism of Frances, Lottie, and Louisa within the Reconstruction state government made them the three most notable Rollin sisters. 
Lottie and Kate taught in Freedmen's Bureau schools.  Lottie became well known for her efforts in the women's suffrage movement and was the first black woman ever address the SC Legislature. Lottie led a rally at the State House to promote woman suffrage and spearheaded the creation of a South Carolina chapter of the American Woman Suffrage Association (AWSA) and Kate Rollin served as the organization's sectary.  Kate Rollin died 1876 and Lottie and Louisa Rollin moved their mother to Brooklyn, New York. 
Frances Rollin, the most prominent of the sisters, became a writer, educator, law clerk, and civil rights activist. She won one of the earliest Civil Rights lawsuits following the Civil War.   After being denied access to the first-class cabin of a steamship travelling between Beaufort and Charleston, Frances brought the captain of the steamship to court. He was found guilty of discriminating against her because of her race and fined $250. Frances was the only one of the sisters to marry.  She wed William J. Whipper, an influential black legislator, a judge, and the Rollin sister's biggest ally in the pursuit of women's suffrage. Their marriage produced five children. William, Frances and their surviving children moved to Washington, D.C. Frances eventually returned to Beaufort, South Carolina and died there in 1901.