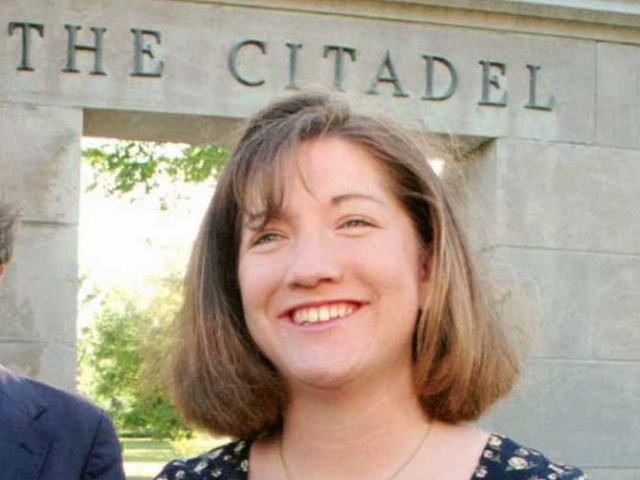 Shannon Faulkner. Image from The Atlanta Journal-Constitution
(1975 - )  Faulkner was born in Powdersville, South Carolina and graduated from Wren High School in 1993. Faulkner became the first woman to attempt to enter the Corps of Cadets at The Citadel, which previously had a male-only admissions policy. Faulkner enrolled after a successful lawsuit against the military academy.  
The Citadel allowed Faulkner to attend classes in January 1994 as a civilian student, which meant she had to be off campus by the time retreat was played. She was not allowed to reside in the barracks nor wear the cadet's uniform.  Faulkner entered The Citadel with an otherwise all-male corps of cadets on August 15, 1995.  The following day, which was the first day of "Hell Week", the area was hit by 100-degree weather. A black flag was hoisted, which warned of the heat and signaled that cadets were to drink water frequently. At lunch, the cadets were forced to eat large quantities of a noodle casserole, and Shannon began feeling sick. Faulkner reported that she felt nauseous to Ray Gerber, her cadreman. Faulkner and four male cadets were taken to the infirmary.  She rejoined the corps two hours later, but despite exercises being moved into an air-conditioned building she continued to be nauseous. She then returned to the infirmary, where she spent the remainder of that week before voluntarily resigning, citing emotional and psychological abuse and physical exhaustion.  
Two decades later, in a 2012 interview Faulkner said that what precipitated her leaving so abruptly was a threat to kill her parents by a person present when she entered.  Faulkner attended Furman University and later Anderson College, where she graduated  with a degree in secondary education. After graduating she was hired by Carolina High School.