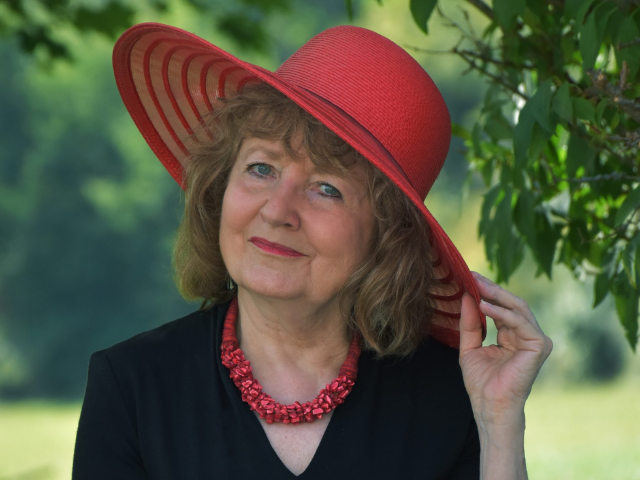 Susan Ludvigson. Image from Red Hen Press.
(1942 - )  Ludvigson  was born in Rice Lake, Wisconsin, to Howard C. Ludvigson and Mabel Helgeland. In 1961 she married David Bartels, with whom she had one son. Ludvigson entered the University of Wisconsin–River Falls and earned a B.A., with honors, in English and psychology. She taught school in River Falls, Wisconsin, and Ann Arbor, Michigan, for seven years. She received an M.A. in English at the University of North Carolina at Charlotte and then studied for two years with James Dickey at the University of South Carolina. She and Bartels divorced in 1974, and she married the novelist Scott Ely in October 1988. Both taught at Winthrop University in Rock Hill, spending part of each year in southern France. Since 1979 Ludvigson's work has earned many awards, including Guggenheim and Fulbright Fellowships.
Ludvigson first wrote poems while in her teens. As an adult, she became committed to poetry under the influence of colleagues and friends. Her first volume, Step Carefully in Night Grass, appeared in 1974. Her second, Northern Lights (1981), showed greater maturity and began her connection with Louisiana State University Press, which published her next six collections. Much of the material depicts memories in which horses, parents, and childhood anxieties are prominent. The middle section, based on nineteenth-century news articles, portrays thirteen troubled Wisconsin women.
In The Swimmer (1984), Ludvigson's third collection, poems such as "Trying to Come to Terms" express grief following the deaths of three friends. Through this collection, water in its various forms–snow, rain, lakes–becomes symbolic. The Beautiful Noon of No Shadow (1986) draws on themes established in earlier collections, such as the power of dreams, and the elemental force of light and dark, of water and sky. 
To Find the Gold (1990) begins with "The Gold She Finds," a widely praised, nineteen-part poem containing an imaginative reconstruction of the life of the sculptor Camille Claudel and her passionate but troubled relationship with Auguste Rodin. Other poems, such as "This Beginning" and "Paris Aubade," are autobiographical, often touching on life in France. Everything Winged Must Be Dreaming (1993) contains long poems on marriage and extended relationships. Several, such as "Happiness: The Forbidden Subject," refer to her own marital contentment. As the title suggests, Trinity (1996) shows a greater concern with religious themes.
Sweet Confluence (2000) consists of selected poems from previous volumes, as well as twenty new poems, including "Where We Have Come," a kind of elegy for her mother. This volume demonstrates the versatility of form and subject and the maturity that earned Ludvigson, her place as a prominent American poet.