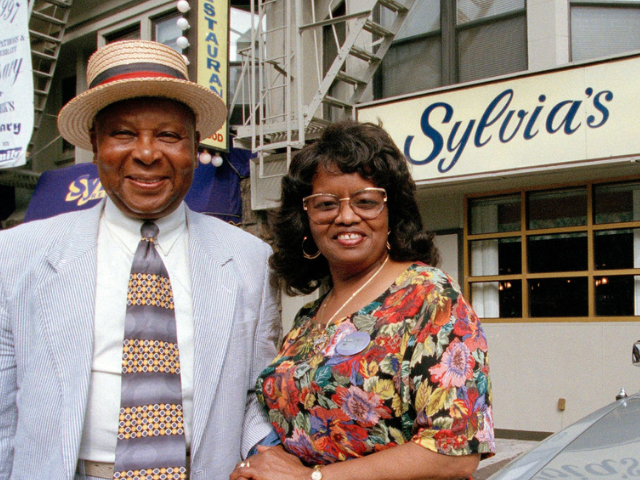 Sylvia Woods with her husband Herbert Woods outside of their restaurant, Sylvia's. Photo by Ozier Muhammad. The New York Times.
(1926-2012)  Woods was born  in Hemingway, S. C. Her father died when she was three days old, and she was raised by her mother and grandmother. Woods earned her beautician's license at night while attending junior high school. While a teenager Pressley moved to New York City. Childhood sweetheart Herbert Woods followed her, and they were married in 1944 and had four children.
Woods waited tables at a restaurant and eight years later she bought the eatery and named it Sylvias.  It became a popular neighborhood restaurant with its visibility to and international respect for the art of southern cuisine.  New York magazine's food critic Gael Greene dubbed Woods "the queen of soul food".  The business gained worldwide attention. Her simple southern dishes attracted throngs of tourists each year and have spawned a multi-million-dollar empire, Sylvia Woods Enterprises.