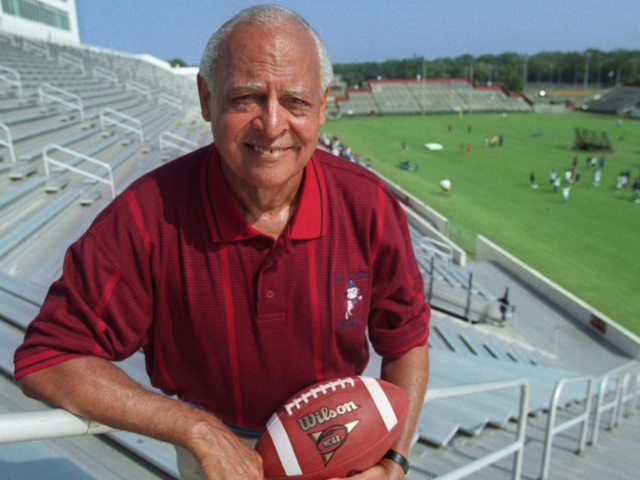 Willie Jeffries. Image from HBCU Gameday.
(1937 - )  Willie Jeffries, a native of Union, South Carolina, earned his Bachelor's degree and a Master's degree from South Carolina State University.  
Jeffries started his coaching career coaching high school football.  Jeffries then completed a 19-year career as head football coach at South Carolina State University (SCSU).  He retired in 2001 and was the Athletics Director at Grambling State University, in Grambling, Louisiana.  He later returned to South Carolina where he was appointed Executive Director of the Palmetto Capitol City Classic Football Game and Color Analyst for Educational Television Football. He began his first tenure at SCSU in 1973, completing an impressive 50-13-4 record in six seasons.  Following a hiatus from SCSU, 1978-1989, Jeffries returned to begin his second tenure which spanned 13 years.
During his 29-year collegiate head-coaching career, which included five-year stints each at Wichita State and Howard University, Jeffries compiled a 179-132-6 record.  Jeffries made history in 1979 when he became the first African American head football coach in Division I football.  Jeffries won almost 60 percent of the college games he coached, which made him the "winningest" coach in the 107-year history of SCSU.  He also served as Athletic Director in 1990 and 1991.  
Jeffries has received numerous honors, including the Order of the Silver Crescent and the Order of the Palmetto. 
He is married to the former Mary Cauthen of Lancaster, SC and they have three children, Valorie, Willie Jr., and Tamara.