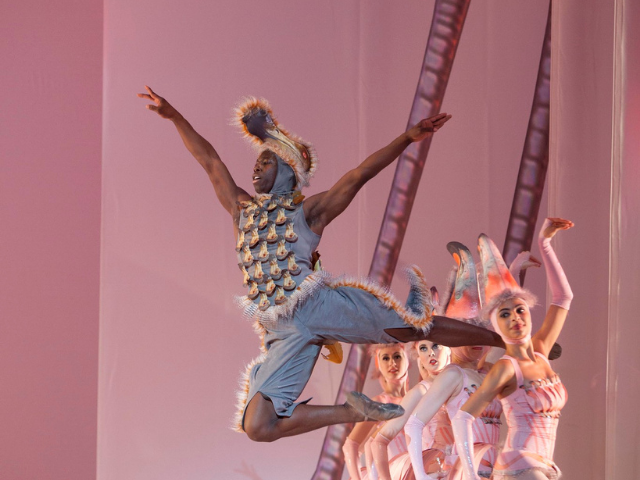 Brooklyn Mack as a Dodo Bird. Photo by Brianne Bland. Courtesy of the Washington Ballet and uploaded by Flickr user KCBalletMedia.
(1987 - )  Mack did not initially set out to become one of the world's best dancers.  Mack started taking ballet lessons to improve his football game. Mack realized how much he enjoyed ballet dancing and took it up full-time.  He attended Kirov Academy of Ballet in Washington, D.C.  Afterwards, he joined the Joffrey Ballet in Chicago as an apprentice; in 2005, he joined the American Ballet Theater Studio Company in New York City; and, in 2006 the Orlando Ballet in Florida. After three seasons in Florida, he joined The Washington Ballet.
Mack was the first African American man to win a senior gold medal at the Varna International Ballet Competition in Varna, Bulgaria — the oldest professional ballet competition in the world.  In addition, he has won numerous awards including the Kirsti Paakenen Encouragement Prize in Helsinki, Finland; the silver medal at the Jackson International Ballet Competition, and the Princess Grace Fellowship Award, among many others.