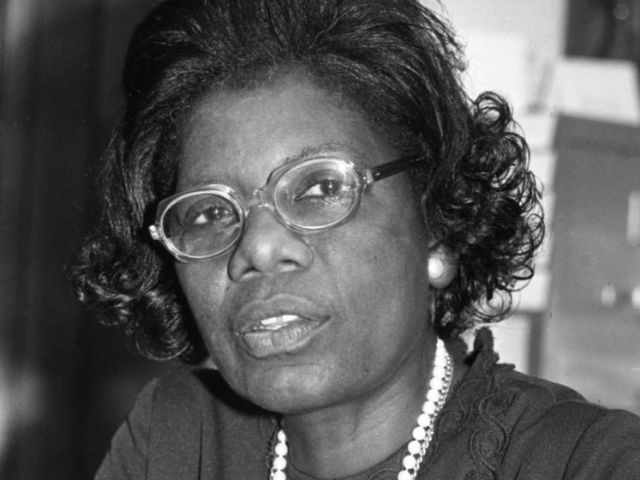 Fannie Phelps Adams. Image from South Carolina Encyclopedia.
(1917-2016)  Adams was born to James and Mary Lou Phelps. She grew up in the community of Wheeler Hill in Columbia, South Carolina. She graduated from Booker T. Washington High School in 1934. She earned a Bachelor of Arts degree from Allen University and a master's degree from South Carolina State University. On December 27, 1947 she married David King Adams, Jr. They had one daughter, Mary Suzette.
Adams taught third grade at Booker T. Washington Heights Elementary School in Columbia (renamed Sarah Nance Elementary and now called Watkins–Nance Elementary) until 1943. She then taught English and social studies at Booker T. Washington High School. Adams later served as guidance counselor, assistant principal, and acting principal until the school closed in 1974. She then served as assistant principal at the by-then- integrated A.C. Flora High School until her retirement in 1979.
Adams pointed out inequalities and encouraged students to intellectually prepare for a better day and to overcome those disadvantages presented by the racial segregation and discrimination that they faced. She did not want them to allow their poverty to hold them back.
Adams taught the value of cooperation and responsibility to the larger community. After retirement, Adams continued the struggle for equality for others. In the late 1970s she was directly involved with programs and campaigns that resulted in the election of the first three African American members to the Richland School District One Board of Commissioners, resulting in a racially mixed board for the first time in its ninety-six-year history.
A lifetime member of St. James AME Church, Adams received numerous awards, including the Human Relations Award from the Richland County Education Association, the South Carolina Education Association, and the National Education Association. She was inducted into the South Carolina Black Hall of Fame and the Richland One Hall of Fame. In 2008, the University of South Carolina Education Museum pavilion unveiled a commemorative bench in her honor. In 2010 Adams was an inductee into the Bell South's South Carolina American history calendar. She was a founder of the Palmetto Cemetery Association and served as a director of the Wheeler Hill Neighborhood Association.