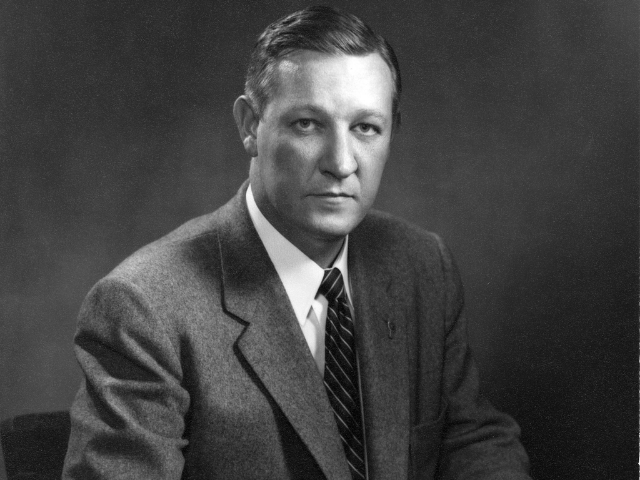 A portrait of SC Gov. George Timmerman. From the South Carolina Political Collections at the University of South Carolina.
(1912-1994)  Timmerman was born in Anderson, the son of George Bell Timmerman and Mary Vandiver Sullivan. He attended the Citadel and earned a bachelor of laws degree from the University of South Carolina. In 1935 Timmerman married Helen DuPre, but the union would produce no children. During World War II, he served in the U.S. Navy. After returning home, Timmerman practiced law in Lexington and became involved in politics. He was elected lieutenant governor in 1946 and was reelected in 1950.
In 1954 Timmerman accomplished what no previous lieutenant governor had ever done: advance to the governor's office by the election route. Timmerman, who had served as lieutenant governor longer than anyone else in the state's history, triumphed in a landslide.
Timmerman took office at a crucial juncture in South Carolina history. In 1954 the U.S. Supreme Court unanimously issued its landmark Brown v. Board of Education decision, which ruled that racially segregated schools were "inherently unequal." Assuming his office in 1955, Timmerman was presented with the opportunity to lead the state forward in the area of race relations. However, Timmerman resolutely opposed integration. While Timmerman did nothing as dramatic as standing in the schoolhouse door to block entry by African Americans, he certainly did nothing to ease the transition to integration. He ordered Clemson to reject a $350,000 grant from the Atomic Energy Commission because that agency required a nondiscrimination commitment. Timmerman denounced the widely read publication South Carolinians Speak and its call for moderation in race relations. He pressured three African American educational institutions (S.C. State College, Allen University, and Benedict College) to reject integration and urged the S.C. Department of Education to revoke accreditation for Allen's education program. Ironically, when the department submitted to the governor's demands, it gave African Americans legal grounds to seek admission to the University of South Carolina.
After his term as governor ended in 1959, Timmerman returned to private life and resumed his law practice. In 1967 the legislature elected him judge of the Eleventh Circuit Court, where he served until 1984. In September 1994 Timmerman was involved in an automobile accident, and he succumbed to his injuries on November 29, 1994.