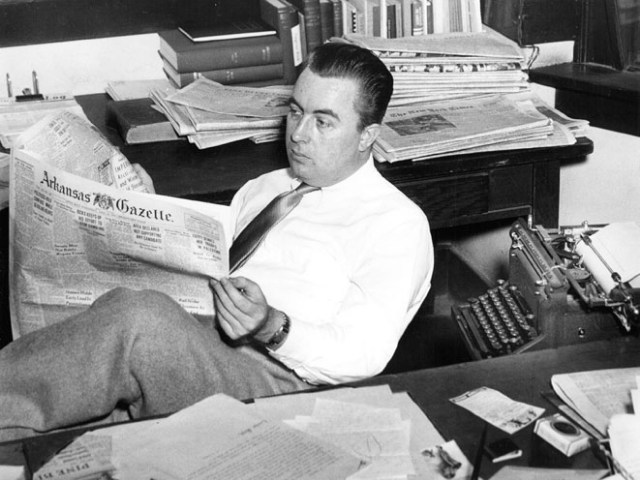 Harry Ashmore. Photo courtesy of Barbara Ashmore. Encyclopedia of Arkansas.
(1916-1998)  Ashmore was born in Greenville, SC to William Green Ashmore and Nancy Elizabeth Scott. He grew up in relative poverty but obtained a general science degree from Clemson College in 1937. He demonstrated exceptional writing skills and pursued a journalism career after serving as editor on his high school and college newspapers.
Ashmore's reputation as a journalist grew at the Greenville Piedmont and Greenville News, and his editorials at the Charlotte (N.C.) News led to a job at the Arkansas Gazette in 1947.
Ashmore won a Pulitzer Prize for his editorials opposing Arkansas Governor Orval Faubus's attempt to stop the integration of Little Rock's Central High School in 1957. However, Ashmore shunned the "liberal" tag, claiming to be a gradualist–supporting the removal of the "separate but equal" system by degrees.  Ashmore's book, The Negro and the Schools, summarized a massive Ford Foundation research project on the disparate biracial educational system in the South. Chief Justice Earl Warren of the U.S. Supreme Court later told Ashmore the research findings influenced the Court's desegregation implementation decision.
In 1959, Ashmore served as editor in chief of Encyclopaedia Britannica.  During his career Ashmore wrote ten books, many of which discussed the changing attitudes in the New South. Ashmore died in Santa Barbara on January 20, 1998.