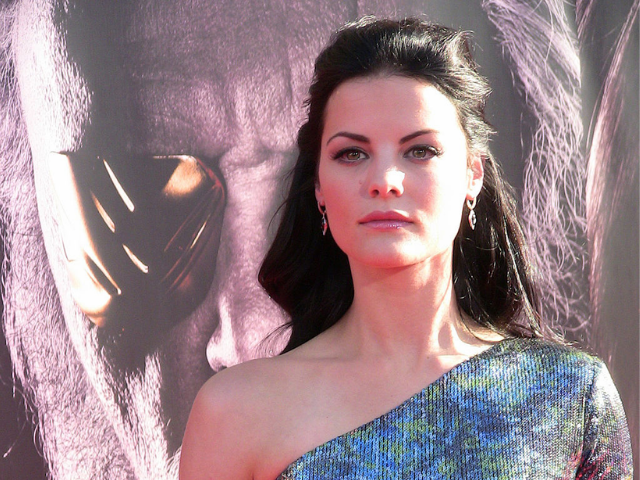 Jaimie Alexander at the world premiere of the movie Thor. Image taken by Mingle MediaTV and uploaded to Wikimedia Commons.
(1984 - ) Alexander was born in Greenville, South Carolina.  Alexander first got into acting in grade school, where she took theater for fun. She was kicked out of theater when she was in high school because she could not sing, so she instead went into sports. When she was 17, she substituted for a friend at a meeting with a scouting agency and she met her manager, Randy James, who sent her some scripts. After her graduation from Colleyville Heritage High School, a year and a half later, she moved to Los Angeles to pursue acting.

Her career was launched in 2003, when she was cast in The Other Side. Alexander's next role was in the movie Squirrel Trap. This was soon followed by a guest appearance in It's Always Sunny in Philadelphia and she also has a small part in an episode of Standoff.

She appeared in the series Watch Over Me and, in 2006, she had her second lead role in the horror film Rest Stop.  In 2007, she had her second lead role in Hallowed Ground.  Her most famous role so far was that of 'Jessi' on the television show Kyle XY.  She also has had guest roles on the television shows CSI: Miami and in Bones.  
In September 2009, it was reported that Alexander would portray Sif in the live-action superhero film, Thor. She reprised the role in the sequel Thor: The Dark World, released in 2013. She reprised the role twice in special crossover guest appearances on the TV series Agents of S.H.I.E.L.D. and portrayed deputy sheriff The Last Stand, alongside Arnold Schwarzenegger.
In 2010, Alexander was cast in the independent comedy-drama film Loosies and also joined the cast of Nurse Jackie. In 2011, she joined the cast of Covert Affairs and appeared in the film Savannah.  In 2015, Alexander starred in the series Blindspot.