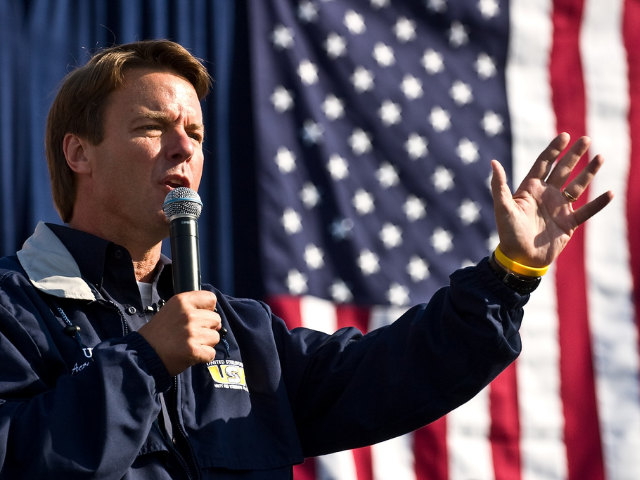 2008 United States Presidential candidate John Edwards campaigning in Pittsburgh on Labor Day in 2007. Image taken by Mike Murphy. Wikimedia Commons.
(1953- )  Edwards was born in Seneca, SC to Wallace and Catherine "Bobbie" (Wade) Edwards.  He graduated from North Carolina State University in 1974 and the University of North Carolina, J.D., 1977.  He married fellow law student Elizabeth Anania in 1977.
As a practicing attorney, Edwards ranked among the most successful trial lawyers in North Carolina.  He made a successful run for the U.S. Senate in 1998. After only four years as a senator, Edwards launched a campaign for the Democratic presidential nomination, and he decided not to also run for reelection to the Senate. He lost in the primaries to Senator John Kerry who then chose Edwards as his vice-presidential running mate. 
In December 2006, Edwards announced in New Orleans that he would seek the 2008 Democratic presidential nomination. His campaign stressed his aim of ending poverty in the U.S., along with his opposition to the war in Iraq.  He withdrew in January 2008, after third-place primary showings in New Hampshire and his native state of South Carolina.  In August 2008 Edwards admitted that he had carried on an affair with an unmarried woman hired to make videos for his presidential campaign. In June 2011, federal prosecutors charged Edwards with using illegal campaign contributions to cover up the extramarital affair and the daughter it produced. The indictment also included charges of conspiring to evade the law and making false statements. A trial began in April 2012. In May, a jury found Edwards not guilty of one of the six charges but remained deadlocked on the rest. Federal prosecutors dropped the remaining charges against Edwards.