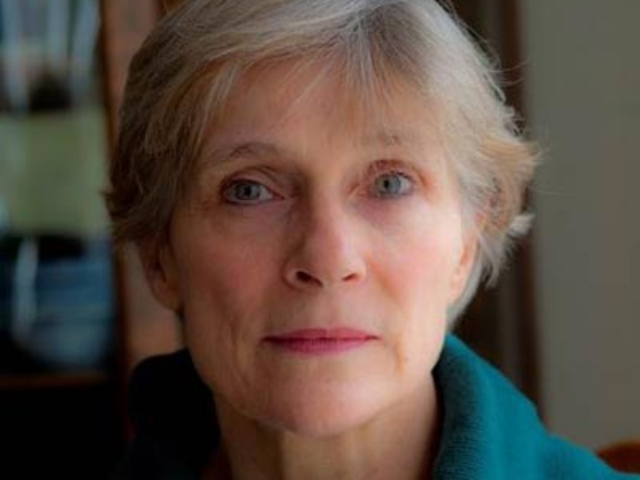 Pam Durban. Image from Reinhardt University.
(1947 - )  Durban was born in Aiken, South Carolina, the daughter of Frampton Wyman Durban and Maria Hertwig. She attended a Catholic grade school, St. Mary Help of Christians. She left Aiken to attend the University of North Carolina, Greensboro, where she earned her bachelor's degree in 1969.
In the 1970s she wrote as a freelancer for Osceola, a newspaper published by people associated with Clemson University, followed by a stint as a contributing editor for the Atlanta Gazette (1974–1975). In Atlanta she taped interviews with women in a textile mill community and published them as Cabbagetown Families (1976). She attended the Writers' Workshop at the University of Iowa, from which she received her M.F.A. in 1979. On June 18, 1983, she married Frank H. Hunter, a photographer amd they had a son in July 1987.  She was a founding editor of the magazine Five Points and served as its fiction editor from 1996 to 2001. Durban has taught creative writing at the University of New York at Geneseo (1979–1980), Murray State (1980–1981), Ohio University at Athens (1981–1986), and Georgia State University (1986–2001).
Throughout the early 1980s Durban published short stories in periodicals, and in 1985 she collected seven of them in All Set about with Fever Trees, and Other Stories. The well-received tales are mostly set in the South, and the South Carolina roots are evident. The Laughing Place (1993), her first novel, is a story about a woman who returns to her hometown in South Carolina to learn about her birthplace, her father's life, and the family secrets. The novel is a major statement on the southern obsession with the past.
Her second novel, So Far Back (2000), is about the last descendant of an old Charleston family and her life up to 1989. Through the diary of an ancestor from the 1830s (with an emphasis on 1837), she discovers how her life is entangled in the family history. In The Tree of Forgetfulness (2012), her third novel, Durban focuses on the racially motivated killings of the Lowmans, one woman and two men, who were dragged out of jail by a mob and shot in Aiken County, South Carolina, on Oct. 8, 1926. The case was highlighted with thirty front-page stories in the New York World. The novel moves between 1926 and 1943 in order to show the secrecy, the lingering complicity, the denial, and the slow erasure of the murders from the communal memory. In her creation of the right characters, Durban manages to flesh out the haunting past in convincing detail, so it becomes an essential part of our mental make-up today: would we, if we were there as one of the seventeen complicit in the mob violence, have actively participated, have felt guilty, and have tried to forget?