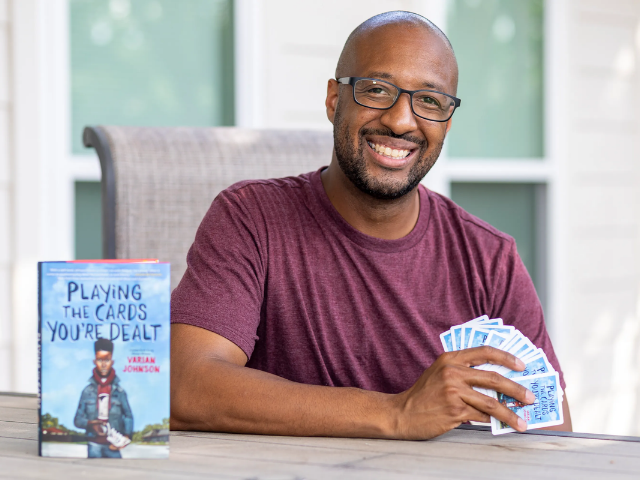 Author Varian Johnson. Image from Austin360.
(1977 - )  Johnson was born in Florence, SC.  He received his B. S. from the University of Oklahoma and his M. F. A. from Vermont College of Fine Arts.  
Varian Johnson has an unusual dual career: in addition to working as a civil engineer designing bridges, he also has several young-adult novels to his credit. His first novel, A Red Polka Dot in a World Full of Plaid, was written for adults but anticipates Johnson's interest in teens through its coming-of-age story about a girl who travels across several states in search of the father she never knew. Johnson's more recent novels, My Life as a Rhombus and Saving Maddie, directly address adolescent readers through their focus on adolescent issues from a teen point of view. 
Although Johnson was a well-rounded student during high school, his aptitude for and interest in math and science signaled a promising career in engineering. After he graduated from high school, Johnson attended the University of Oklahoma, graduating with a degree in civil engineering. In addition to completing his degree, he also found the time to write the first draft of what would become A Red Polka Dot in a World Full of Plaid. Marriage, a job, and a move to Austin, Texas, followed, and while building his engineering career Johnson has also continued to develop as a writer, honing his skills and tapping the many creative resources within that city's active writers' community.
Inspired by a personal experience, My Life as a Rhombus also taps Johnson's knowledge of mathematics through its focus on high-school senior Rhonda Lee. A math wiz, Rhonda is assigned to tutor popular junior student Sarah Gamble, but she evolves into a needed confidante when Sarah discovers that she is pregnant. While learning to listen and not to judge, Rhonda also revisits her decision to abide by her father's wishes and terminate her own unplanned pregnancy three years before. Kliatt reviewer Amanda MacGregor added of My Life as a Rhombus that the "variety of reactions, choices, and feelings" experienced by its teen characters "are realistic and nuanced." According to Booklist critic Stephanie Zvirin, Johnson creates interest by describing Rhoda's efforts to "channel … her anger and pain into numbers and theorems," and My Life as a Rhombus benefits from a "wry humor" and the teen characters' realistic dialogue.
Set in Johnson's native South Carolina, Saving Maddie finds seventeen-year-old Joshua Wynn conflicted when a childhood friend returns to their small town after a five- year absence. The son of a preacher who recognizes that his behavior should be beyond reproach, Joshua is both shocked and attracted to Maddie Smith in her new incarnation as an attractive, sexually provocative, and worldly wise college student. Throwing off the hurt of a recent romantic break-up, he now funnels all his energy into rescuing Maddie, even though his sheltered life makes him incapable of understanding the experiences that have changed her.