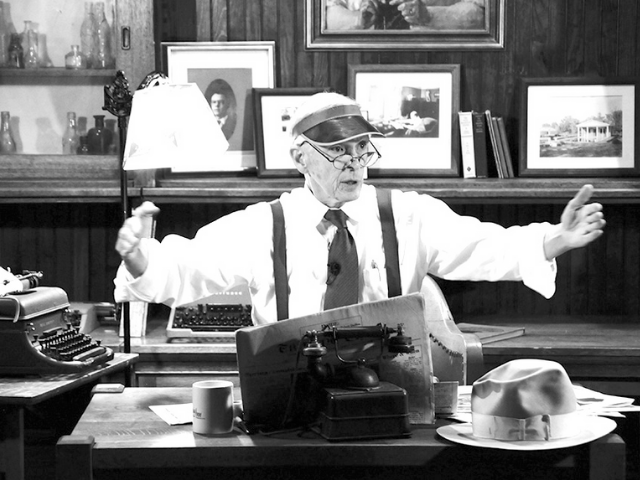 Robert Quillen. Image from The Simpsonville Sentinel.
(1887-1948)  Quillen was born in Syracuse, Kansas, the son of J.D. Quillen.  He attended local schools and in January 1914 produced the first issue of Vox Populi, an ambitious semi-monthly magazine filled with articles, drawings, and cryptic sayings that would become his trademark: "diplomat: a liar who draws a salary for it"; "physician: a scientific guesser"; and "crank: a person who persists in telling the truth."  Two months later, shortly before his seventeenth birthday, he joined the U.S. Army swore he was twenty-one years of age, and signed the name of "William Stewart" to documents placed before him. Although he sometimes referred casually to his military career–apparently sparked by an affair of the heart gone sour–Quillen never produced a full explanation and obviously was somewhat embarrassed by this incident. After a few months in the Philippines, his superiors realized that an error had been made and soon his real name appeared on military records, and six months later he was a civilian once more.
Quillen spent the next few months working on various newspapers, and, in 1906, he answered an advertisement seeking an editor for a weekly newspaper that a Belton, South Carolina publisher planned to launch in Fountain Inn, seventeen miles south of Greenville. Quillen's initial association with the community that eventually would become his home lasted only ninety days, just long enough for him to win the heart of a local girl, Donnie Cox.  Dissatisfied with his new job, Quillen moved to a printing house in Americus, Georgia, where the young couple married. Two months later, he published his first issue of the Americus Christian, an eight-page monthly that he shepherded into print until moving with his bride to Washington state. 
Meanwhile, back in Fountain Inn, Donnie's brother, Ford Todd Cox, had become co-owner of News and Notions, a local weekly. In December 1910, Robert Quillen, having dispensed with his first name and borrowed two hundred dollars, headed east where he proceeded to transform News and Notions into the Fountain Inn Tribune. Two years later, while urging subscribers to settle their accounts, Quillen said that he had gone "busted" in the West, was still in debt, and needed their help.  Transformation soon ensued. News and Notions gave way to a well-organized publication overflowing with news of the local community. An editorial on small-town life published three months later caught the attention of Collier's, which eventually led to a national column, "Small Town Stuff."
During these years, Quillen's personal life was a roller coaster of highs and lows. Unable to have children of their own, he and his wife adopted "Louise," who would be immortalized in numerous columns. Then Donnie Quillen suddenly died following a routine operation, and Robert married yet another local girl, Marcelle Babb. Although syndicate work continued, he sold the Tribune and turned his attention to two novels published by Macmillan, neither of which sold well.
Quillen eventually realized that he needed Fountain Inn, but this did not keep him from dreaming of expanding his sphere of influence. Despite his failure as a novelist and magazine publisher, he kept his sense of humor and somehow came to grips with the cards that life had dealt him. In 2014 Quillen was posthumously inducted into the South Carolina Academy of Authors.