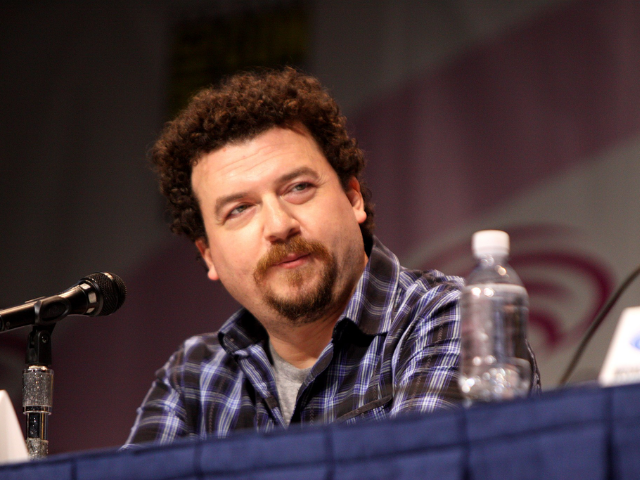 Danny McBridge speaking at the 2013 WonderCon at the Anaheim Convention Center in Anaheim, California. Image taken by Flickr user Gage Skidmore.
(1976- )  Danny McBride was born Daniel Richard McBride in Statesboro, Georgia, and grew up in Fredericksburg, Virginia. He graduated from Courtland High School in Spotsylvania, Virginia, in 1995, and he attended the University of North Carolina School of the Arts in Winston-Salem, North Carolina, where he received a BFA in filmmaking. In 2003 McBride starred in his first film, All the Real Girls.
After All the Real Girls, McBride collaborated with Hill and Best on a film called The Foot Fist Way in 2006. The film was recognized at the Sundance Film Festival and gained the attention of actors Will Ferrell, Ben Stiller, and Seth Rogen, who helped McBride land small parts in Hot Rod, The Heartbreak Kid, Superbad, and Drillbit Taylor. 
His comedic style and gift of improvisation led to supporting roles in the box office hit Tropic Thunder. McBride also appeared in Pineapple Express, and in  2009 McBride costarred with Rogen in Observe and Report and Ferrell in Land of the Lost, both of which were not well-received at the box office.
In 2009 McBride starred as Kenny Powers, a washed-up former professional baseball pitcher, in HBO's Eastbound and Down. McBride was a writer and producer of the show.  While McBride worked on Eastbound and Down, he continued to take small roles in movies such as 2009's Up in the Air starring George Clooney. He also lent his to the 2010 animated picture Despicable Me. McBride had a minor role in 2010's Due Date.
In 2011 he again starred in Your Highness and as the voice of Wolf Boss, alongside Black in Kung Fu Panda 2. He also starred in the comedy 30 Minutes or Less, which was based on a bank robbery involving a pizza delivery man in Erie, Pennsylvania.
McBride has been married to art director Gia Ruiz since October 15, 2010. They have a son and a daughter. He lives with his family in Charleston, South Carolina.