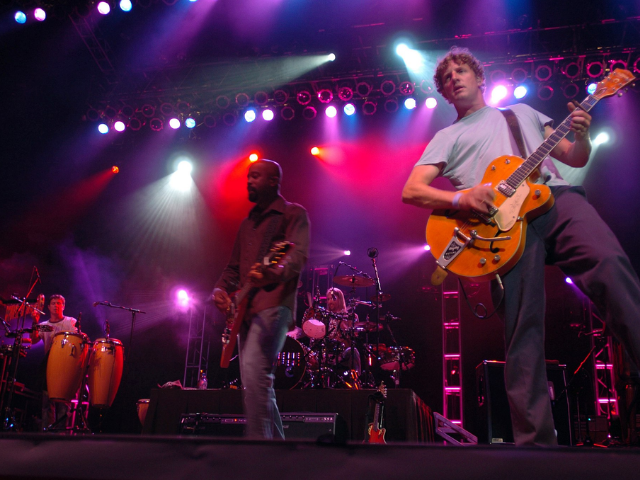 Hootie and the Blowfish perform for North Carolina Army National Guard (NCARNG) Soldiers and their family members during the NCARNG 30th Brigade Combat Team (BCT) Welcome Home Celebration Day at the RBC Center, Raleigh, N.C., on June 26, 2005. Wikimedia Commons.
Founded in 1986, Hootie and the Blowfish emerged as the most popular rock band on the University of South Carolina college scene in the late 1980s and early 1990s. Consisting of lead singer and rhythm guitarist Darius Rucker (b. 1966 in Charleston), lead guitarist Mark Bryan (b. 1967 in Silver Spring, Maryland), drummer Jim Sonefeld (b. 1964 in Lansing, Michigan), and bassist Dean Felber (b. 1967 in Bethesda, Maryland), the band suddenly grew into a national phenomenon with the release of their major label debut, Cracked Rear View, in 1994 on Atlantic Records. 
After winning two Grammy Awards for the first record, the band's second album reached the number one spot on all music charts but sold only about three million copies. They followed up with Musical Chairs (1998) and Scattered, Smothered, and Covered (2000), which each garnered respectable reviews if not impressive sales figures. Nevertheless the band continued to make music, releasing Hootie and the Blowfish in 2003 and a "best of" record in 2004 while touring and making national TV appearances.
In 1996 the group performed a live, nationally televised concert on the Horseshoe at the University of South Carolina campus. That same year the band also helped Columbia obtain the annual Farm Aid concert, starring country singer Willie Nelson and others. The band played for President Bill Clinton's second inaugural ball in Washington. Known for their friendly personalities, the band still sometimes hangs out at the same Five Points bars where they played some of their first concerts, sipping beer and greeting fans.