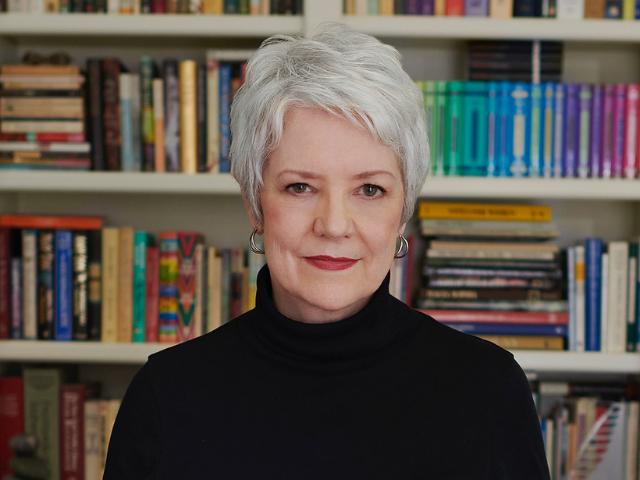 Sue Monk Kidd. Wikimedia Commons.
(1948- )  Kidd was born in Albany, Georgia and raised in the tiny town of Sylvester. She credits the stories told to her by her father and the African American women who worked in her family's home, along with the writings of Henry David Thoreau and Kate Chopin, as being influential on her development as a writer. Kidd graduated from Texas Christian University in 1970 with a degree in nursing and pursued a career as a registered pediatrics nurse during her twenties. Kidd met and married theologian Sanford Kidd, with whom she had two children: Bob and Ann. Although she has kept a journal throughout her life and took classes in fiction writing, Sue Monk Kidd's first major publication was a spiritual memoir in Guideposts that was reprinted in Reader's Digest. 
Kidd published her first book, God's Joyful Surprise: Finding Yourself Loved, in 1988 that  delves into Kidd's personal faith as a Christian and her relationship with God. Another memoir, When the Heart Waits: Spiritual Direction for Life's Sacred Questions, further explores her Christian faith. Kidd's bestselling third memoir, Dance of the Dissident Daughter: A Woman's Journey from Christian Tradition to the Sacred Feminine, marks a departure from the subject matter of Kidd's first two books toward a more feminist perspective–a transition that would come to fruition in The Secret Life of Bees.
In the 1990s, Kidd began to focus on writing short fiction. After taking graduate courses in writing at Emory University in Atlanta, Kidd expanded a short story published in 1993 into her first novel, The Secret Life of Bees. Kidd's overwhelmingly successful transition into book-length fiction was born from her childhood in Sylvester, Georgia; nurtured by her experiences with segregation and the civil rights movement; and brought to fruition through her unique feminist perspective. The novel tells the intertwined stories of fourteen-year-old Lily Melissa Owens, who is white and struggling to discover the past of the mother she saw killed; and Rosaleen, Lily's African American caretaker whose determined attempt to vote results in her savage beating at the hands of three white men. The novel spent more than two years on the New York Times bestseller list and has been published in thirty-five countries. It won the 2003 SEBA Book of the Year Award, the 2004 Book Sense Book of the Year Award for a paperback, and the 2005 Southeastern Library Association Fiction Award. In 2008 
Kidd's second novel, The Mermaid Chair, was set on a South Carolina barrier island.  The novel tells the story of Jessie Sullivan, a married woman who falls in love with a Benedictine monk. A New York Times bestseller, the book has been translated into twenty-four languages. It won the Quill Award in General Fiction in 2005 and was adapted into a television movie by Lifetime in 2006.
The theme of the spiritual quest is central to Kidd's book, Traveling with Pomegranates: A Mother-Daughter Story, co-authored with her daughter Ann Kidd Taylor. This shared memoir, which appeared on the New York Times bestseller list, chronicles both women's physical expedition to Greece and France and their spiritual journeys to rediscover themselves and each other. Her third novel, The Invention of Wings (2014), re-imagines nineteenth-century Charleston with a special focus on women's rights pioneer Sarah Grimke. Kidd received the Order of the Palmetto, South Carolina's highest civilian honor in 2006; she was inducted into the South Carolina Academy of Authors in 2011.