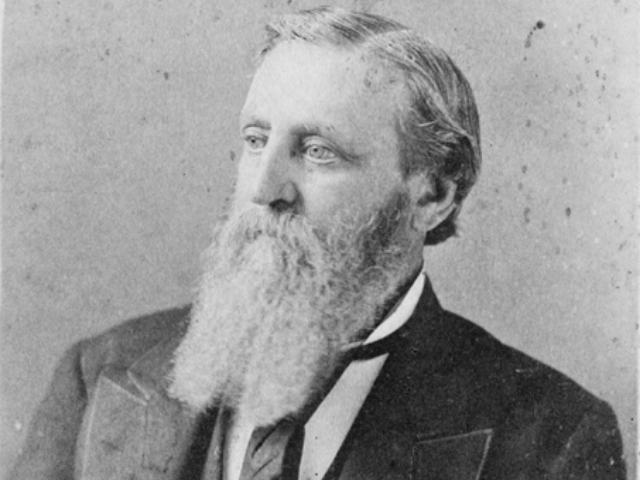 William Dunlap Simpson. 78th Governor of South Carolina. Wikimedia Commons.
(1823-1890)  Simpson was born in Laurens to John Wells Simpson and Elizabeth Satterwhite. He was educated at Laurens Male Academy and attended both the South Carolina College and Harvard., graduating from neither. He  studied law, was admitted to the bar, and opened a law practice in Laurens. On March 25, 1847, he married Jane Elizabeth Young, and they had eight children. 
During the 1850s, he served two nonconsecutive terms in the South Carolina House of Representatives. In 1860 he was elected senator and served until 1863. When war broke out, he participated in the siege of Fort Sumter and the First Battle of Manassas. Returning to South Carolina, he helped organize the Fourteenth South Carolina Infantry and rose to the rank of lieutenant colonel. Upon winning a special election to the Confederate Congress in 1862, he resigned his commission and his state Senate seat. He was reelected and served until the end of the war.
After the war he took the oath of allegiance to the United States and was elected to Congress. However, his Republican opponent challenged the election and Simpson was disqualified. Despite this setback he remained active in party politics.
In 1876 Simpson ran for lieutenant governor. He took the oath of office but was barred from the State House by federal troops. When the troops were withdrawn in March 1877, he assumed his post as presiding officer of the South Carolina Senate. On February 26, 1879, Hampton resigned as governor, and Simpson took his place. Interested in education and agriculture, he was instrumental in the granting of university status to South Carolina and in the creation of the state agricultural commission and fish commission. After less than a year in office, he was elected chief justice of the South Carolina Supreme Court; he was then reelected in 1885 and served until his death.