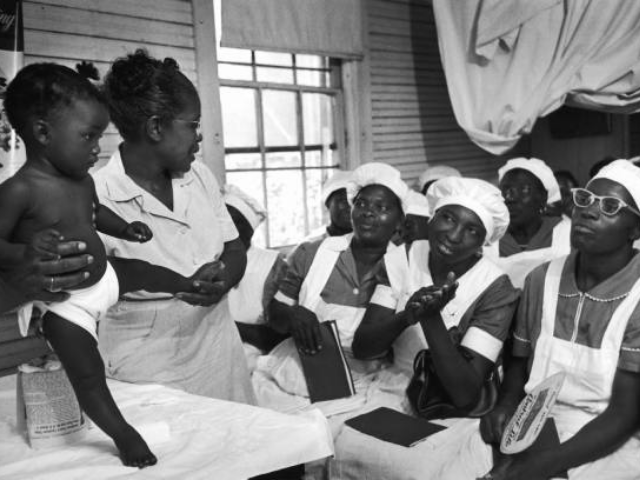 Nurse/midwife Maude Callen (L) holding baby as she teaches a class in midwifery how to look for abnormalities as her eager students watch intently. Photographer: W.Eugene Smith. December 3, 1951. Image courtesy of Life Magazine.
(1898 -- 1990) Maude Callen spent more than a half-century serving as a nurse and midwife to the poor people of Berkeley County, SC. She was born in Florida, graduated from Florida A & M, and took a nursing course before moving to SC.   She taught children how to read and write, held vaccination clinics at local schools for smallpox and diphtheria, and held the county's first venereal-disease clinic.  Because people were unable to travel, she went to them, often walking miles through woods and creeks to get to her patients. It is estimated that she delivered 600 to 800 babies during her lifetime. This work gave her the nickname "Angel in Twilight."
After her retirement, Callen continued to volunteer and managed a nutrition program for senior citizens. The program offered cooked meals, home delivery of the meals five days a week and also provided transportation for the elderly. She was reportedly invited to the White House by President Ronald Reagan, but declined the invitation because of her commitment to her volunteer service.  She continued her volunteer work until her death and is buried in Berkeley Co.