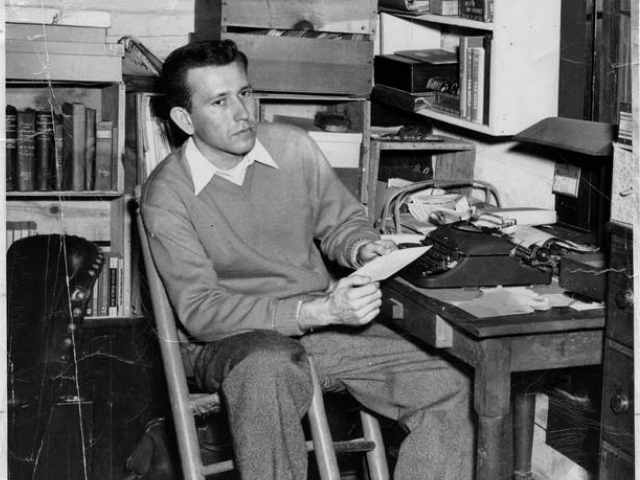 Max Steele. North Carolina Writers' Network.
(1922-2005)  Max Steele was born in Greenville, SC, the son of John M. Steele and Minnie Russell. He attended Furman University for two years and Vanderbilt University while serving in the U.S. Air Force. He received a B.A. degree from the University of North Carolina at Chapel Hill. He did further study at the Academie Jullienne and the Sorbonne in Paris. On December 31, 1960, Steele married Dianna Whittinghill. They have two sons.
Steele's first published story, "Grandfather and Chow Dog: A Story," appeared in Harper's in 1944. His novel Debby was published in 1950, when it won the Harper prize of the year. It also received the Eugene F. Saxon Memorial Award and the Mayflower Cup for best book by a North Carolinian in 1950. Debby was reprinted by Perennial Library in 1960 as The Goblins Must Go Barefoot and by Louisiana State University Press in 1997 as Debby.
Steele is best known for his short stories. Several stories have been included in anthologies used by teachers in middle-and high-school English classes, and Funk and Wagnall's selected "The Cat and the Coffee Drinkers" for its Great Short Stories of the World textbook. Three volumes of Steele's stories have been published: Where She Brushed Her Hair and Other Short Stories (1968); The Cat and the Coffee Drinkers (1969); and The Hat of My Mother: Stories (1988).
Steele began teaching in 1956 at the University of North Carolina (UNC), where he later served as writer in residence, professor, and director of the creative writing program. Under his leadership, the writing program produced some of the nation's most promising young writers. He retired from UNC in 1988 as professor emeritus. He also taught at the University of California at San Francisco, Bennington College, South Carolina Governor's School for the Arts, Bread Loaf Writers' Conference, and Squaw Valley Writers' Conference. He was an advisory editor of the Paris Review from 1952 to 1954 and has been an editor of Story magazine since 1988. 
In 1992 Steele was inducted into the South Carolina Academy of Authors.  After his eightieth birthday he concentrated solely on writing short-short stories, published in Harper's and the Washington Post.  He died in Chapel Hill.